Motors, PowerPacks & Cylinders
For the hydraulics industry
DistagQCS range of motors, powerpacks and cylinders on offer for the hydraulic industry, we are able to provide Bespoke HPU and cylinders for our client's requirements.
TIPPING CYLINDER CALCULATOR
Distag QCS & DiNatale partner together to bring you a range of Tipping cylinders. Extends and retracts much faster than twin tipping cylinder.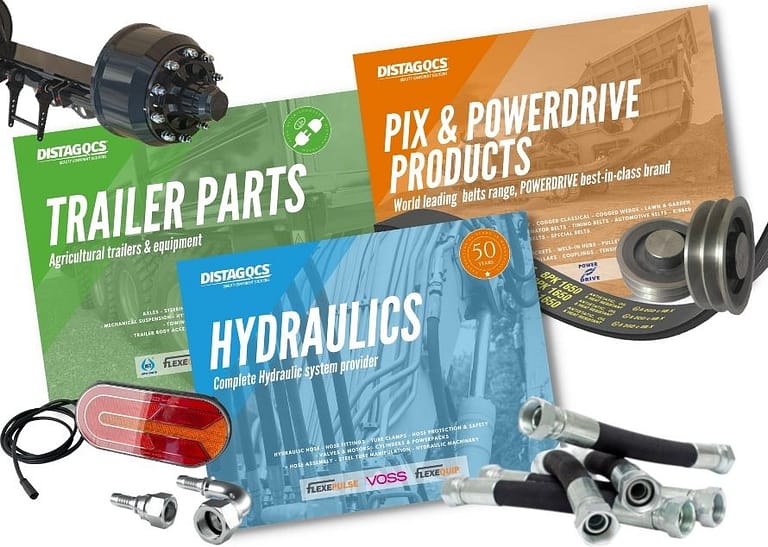 COMPLETE RANGE OF CATALOGUES
Trailer Parts, Hydraulics, Belts, Powerdrive, Agri-Parts and OEM component catalogues available to download
HOSE ASSEMBLY & KITS
Our Port to Port Solutions allows our customers to benefit from the advantage of having one provider for their complete Hydraulic system.
Complete Hydraulic System Provider
+14.000 PRODUCT LINES & 3 WAREHOUSE LOCATIONS ACROSS THE UK & IRELAND
As a leading supplier of complete port-to-port solutions, at Distag QCS Group we offer a comprehensive range of fluid power components, including tube connection systems, hydraulic hose, fittings, assemblies, kits, motors, cylinders, valves, and accessories. The range includes FLEXEPULSE hose, FLEXEQUIP and VOSS tube and end-fittings.
Celebrating 50 years in Hydraulics
Distag QCS (UK) Ltd, previously known as Flexequip Ltd, was founded in July 1971 and began manufacturing hydraulic couplings to service a large home and export market across the world through a distribution network.
The Flexequip brand has been synonymous with designing and manufacturing high-quality hydraulic couplings for over 50 years. From the early days of re-usable couplings, and braised adapters, to the current range of one & two-piece fittings, the FH logo is widely recognised across Europe, UK, and the Middle East.
Following the acquisition by the Distag group in 2006, the company has continued to expand the product range and service provided, and today we carry over 10,000 active hydraulic component SKUs, including hose, fittings, adapters, QR couplings, valves, motors, cylinders, clamps & hose protection.
In addition to the components provided, Distag also manufacture hose assemblies, manipulated steel tube assemblies, and build hydraulic kits according to customer specification.
While the name may have changed, and the product range expanded, we are proud to have some members of the team still with us today, who have been on this journey with the company for over 30 and 40 years; and witnessed the continuous development and improvement in hydraulic couplings.
We welcome you to take a look at our new celebration catalogue, and see some of the products which will take us into next 50 years phase.
TECHNICAL LIBRARY
See what our Engineers have to say
Our super talented Technical team are continuously working on simplifying techniques, providing innovative new products and providing 3D models to help our customers get what they need. Our Technical Hub will provide you with detailed information which will help you design and decide on the products you may need.
While every effort is made for you to make that decision, our Engineers are always on-hand to help.