Interlock Fittings
SAFETY & FLEXIBILITY WITH VOSS HOSE FITTINGS 
Hydraulic systems are only as efficient as each individual component. So VOSS Fluid places the same high demands on the quality of its hose fittings as on the rest of the range. This is true for their leakage and assembly reliability as well as their versatility and durability. The synergy between VOSS Fluid hose fittings and other VOSS coupling systems guarantees the right fit for any application.
All components and systems from VOSS are perfectly matched. Uniform values and parameters make assembly easier, more reliable and increase protection against leakage while improving the load capacity. In addition, as the standard VOSS Fluid solutions provide exemplary corrosion protection that has set the benchmark in the market and significantly increase the product service lives.
INTERLOCK FERRULES
VOSS Interlock ferrules are available for 3/4″ up to 2″ hose.
Skive Ferrules are available for different types of hose applications.
METRIC HEAVY INTERLOCK FITTINGS
19 to 32mm diameter – Interlock hose fittings with metric thread and 24º taper.
BSP (O-RING) TYPE INTERLOCK FITTINGS
3/4″ to 2″ diameter – Improved leak-proofing and precision seal. Higher pressure resistance and functional reliability, even under extreme operating conditions.
ORFS & NPT INTERLOCK FITTINGS
19 – 38mm 3/42 to 2″ – ORFS Female Interlock, NPTF Male Fittings
FLANGE INTERLOCK FITTINGS
3/4″ to 2″ diameter – Hose Fittings with SAE flange
Standard series MFL 3 (3,000 PSI), ISO 12151-3 (ISO 6162-1), High-Pressure series MFL 6 (6,000 PSI), ISO 12151-3 (ISO 6162-2), High-Pressure series MFL CAT (9,000 PSI), ISO 12151-3 (ISO 6162-2).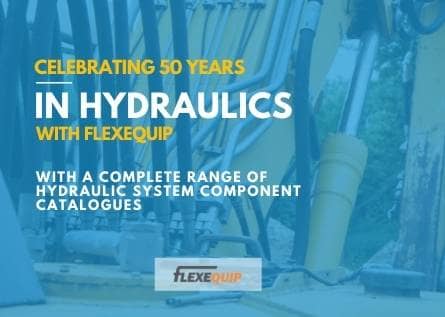 CELEBRATING 50 YEARS WITH FLEXEQUIP
We welcome you to take a look at our new celebration catalogue, and see some of the products which will take us into next 50 years phase.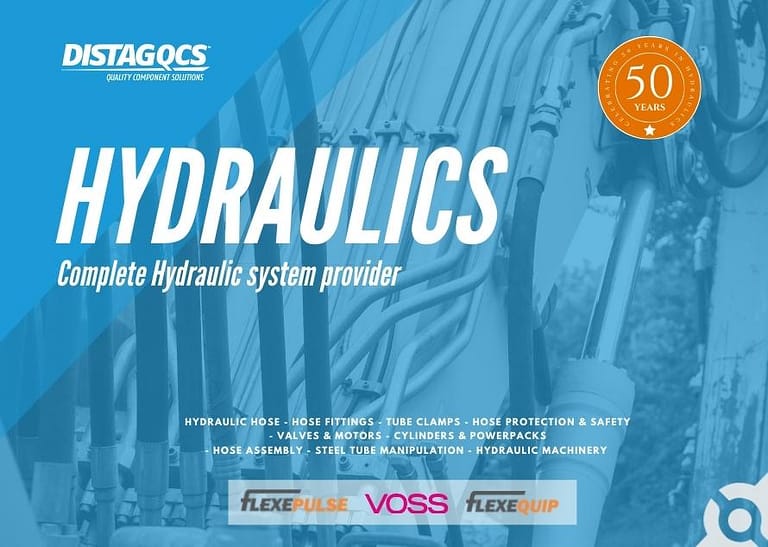 COMPLETE HYDRAULIC SYSTEM PROVIDER
As a leading supplier of complete port-to-port solutions, at Distag QCS Group we offer a comprehensive range of fluid power components, including tube connection systems, hydraulic hose, fittings, assemblies, kits, motors, cylinders, valves & accessories. The range includes FLEXEPULSE hose, FLEXEQUIP & VOSS tube end-fittings.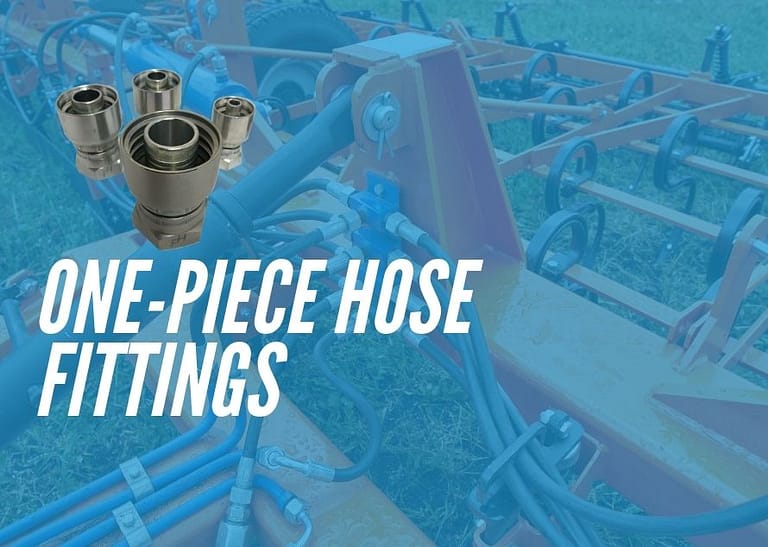 ONE-PIECE HOSE FITTINGS
COMPATIBLE WITH ALL ONE-PIECE SWAGING MACHINES - Distag's new exclusive range of FLEXEQUIP one-piece fittings are designed to conform to the highest standards of quality and reliability