VOSS PARTNERS SINCE 2013
Development and system partner to DistagQCS since 2013. VOSS Fluid works together with distribution partners around the world. Distag QCS are your VOSS Fluid coupling technology dealer for Ireland, the UK and Northern Ireland
DISTAGQCS "VOSS" HIGHLIGHTS
PARTNERS SINCE 2013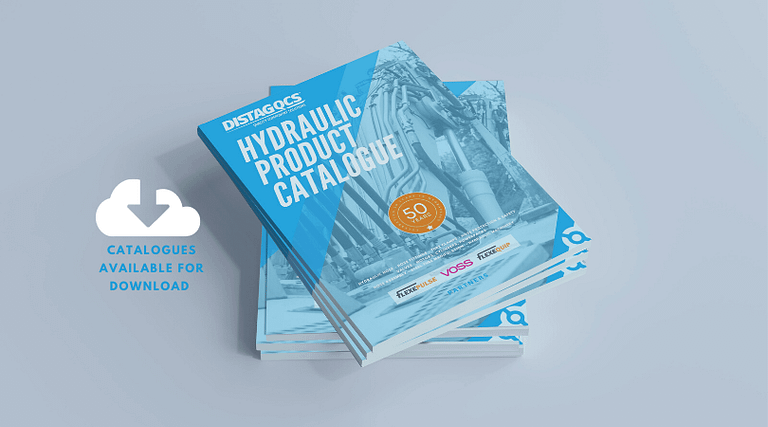 Take a look through our VOSS range in the NEW Distag QCS Hydraulics catalogue
Classical wrapped belts – the original 'work-horse', giving a superior performance at an affordable price point. PIX produce premium quality wrapped belts in Classical sections which exceed the requirements of ISO4183/4184, BS3790, and DIN2215. FRAS belts (fire-resistant/anti-static) also stocked – see FRAS under Special Construction.
Button Text
VOSS RingM - ES-4 Cutting Rings
Safety, pressure resistance, durability and cost-effectiveness - Thanks to perfected technology the soft-sealing cutting ring ES-4VA offers multiple advantages : proven dual cutting technology and additional soft-sealing element, lightweight "L" series, the ES-4VA can hold pressure up to 500 bar and in the heavy-duty "S" series up to 800 bar, with 4-times the safety factor.
Button Text
VOSS Fluid is an internationally leading provider of connection technology in fluid systems. With more than 80 years of expertise, the products of VOSS Fluid satisfy the highest requirements. For VOSS Fluid as a development and system partner in international mechanical engineering, the focus is on application-specific system solutions. Alongside a wide range of standardized components, pre-assembly devices, ready-to-install hydraulic lines and hose fittings, the company also offers customers individual tailor-made solutions. Whether hydraulic connection components and systems or customized services – VOSS Fluid always stands for premium quality. The internationally established company has alongside their headquarters in Germany further sites in France, Poland, Italy, Spain and China. The network is supplemented by sales partners all over the world to guarantee a reliable distribution at all times. With its sister company VOSS Automotive and their nine foreign subsidiaries, they belong to the VOSS Holding and make up the VOSS Family.
VOSS RINGM
PARTNERS FOR OVER XX YEARS
VOSS TUBE PREPARATION
PARTNERS FOR OVER XX YEARS